In March of 1798, there was a town formed called Windham which was in the County of Ulster, NY. Just 2 years later, in 1800 the County of Greene was formed, and Windham became the Western half of Greene County. The towns of Ashland, Halcott, Hunter, Jewett, Lexington, Prattsville and Windham were all originally part of "Old Windham". Then in 1813, the towns of Lexington (New Goshen) and Hunter (Greenland) were taken from the southern part of Windham.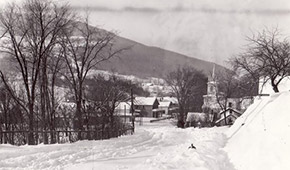 State Route 23, eastern entrance to the hamlet of Windham (Credit: Windham Town Historian's Collection)
In 1833, the town of Prattsville was developed, which had been known as Schoharie Kill, that originally being a part of the North Western part of Windham and in 1848, Ashland was formed which had been known as Scienceville. Jewett was formed in 1849 and Halcott in 1851.
Currently there are 3 hamlets within the town of Windham, those being Hensonville, Maplecrest and Windham and those who are familiar with the area, also know that there are sub regions known as Brooklyn, Mitchell Hollow, Brooksburg, Nauvoo and N. Settlement. The town of Maplecrest was formerly known as Big Hollow, which explains why the alternate name for Rt 56 is Big Hollow Rd........ the name given to the area because it is surrounded by the Blackhead Mountain Range and is sited in the hollow. People would flock to the area for the fresh air and scenery but because there were negative connotations with the vision of a 'hollow' the town was renamed to Maplecrest lending the imagination to trees and mountains!
Nowadays, Windham is hugely popular, not just for its winter activities, but year round. It has become a national center for Mountain Biking, there's wonderful hiking, golf, fly fishing in the area and the scenery is magnificent. Many feel that the Village of Windham feels like a little bit of Connecticut in Greene Cty, which is ironic because the name Windham it is felt, came from Windham in E. Connecticut.
Whether you are fortunate enough to live in Greene Cty or elsewhere in New York State, you will enjoy a visit to this beautiful area.